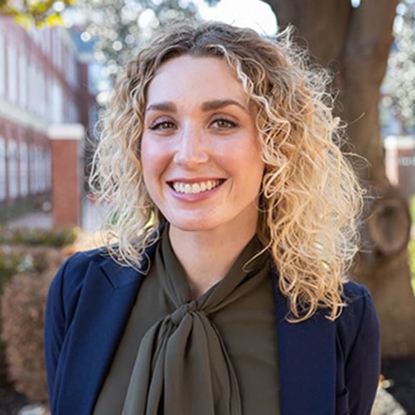 Martha O. Dinwiddie Associate
Bio
Martha O. Dinwiddie is an associate with Stephens, DiRado, & Caviness, LLP. She was born and raised in Knoxville, Tennessee and has lived here for most of her life. She graduated summa cum laude from Sewanee: The University of the South with a Bachelor of Arts in Psychology and Women's and Gender Studies. In college, Martha was a member of Phi Beta Kappa and was a four-year starter on the varsity women's soccer team.
Martha attended law school at the University of Tennessee College of Law, where she graduated first in her class. In law school, Martha was the Managing Editor of the Tennessee Law Review and served as a Legal Process Fellow, assisting first-year students with learning legal writing. She was selected to be a member of the Order of the Coif and was a Summers, Rufolo, & Rodgers Advocacy Scholar. She received numerous awards for her academic achievements through law school, including the Jerry V. Smith Evidence Award; the Herbert L. Davis Memorial Trust Fund Award for Highest 2L GPA; and the International Academy of Trial Lawyers Trial Advocacy Award.
Though Martha is a new attorney, she has spent extensive time working on criminal cases. She began working at the Knox County Public Defenders Community Law Office before she began law school, and she hasn't been able to stay away from the courthouse since. Martha continued to work for the Knox County Public Defender throughout law school, as well the Law Firm of Mark E. Stephens.
Martha has been with Stephens, DiRado, & Caviness since its inception, officially joining as an associate upon her admission to the Tennessee Bar. She has assisted in many court proceedings and worked on a wide variety of cases, ranging from capital murder to misdemeanors. She looks forward to developing her skills as an attorney more each day.