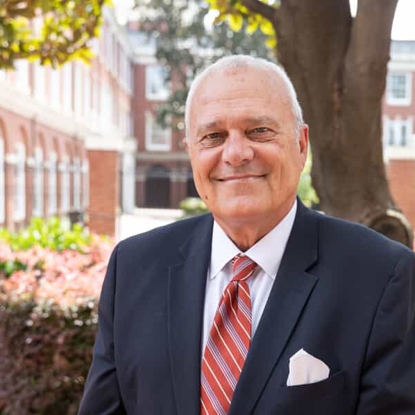 Mark E. Stephens Managing Partner
Bio
Mark E. Stephens is the managing partner of Stephens & DiRado, LLP. For over forty years, he has dedicated himself to representing individuals charged with criminal offenses in Knoxville and East Tennessee. He has extensive experience representing people charged with serious criminal offenses and has tried over seventy-five jury trials during his career, making him one of the most experienced trial attorneys in Tennessee.
Mr. Stephens began his legal career in the private practice of law, with his office focusing on criminal defense and criminal defense-related cases. Early in his career, he also gained experience from the prosecution's perspective and worked for several years as an assistant district attorney in the Knox County District Attorney General's Office. After nearly ten years practicing in the criminal defense community, Mr. Stephens was elected by the citizens of Knox County to serve as the first Knox County Public Defender and to create the Knox County Public Defender's Community Law Office.
Over the course of his twenty-nine year career as the Knox County Public Defender, Mr. Stephens won re-election multiple times and he and the Knox County Public Defender's Office received national recognition for their work. During that time, Mr. Stephens served as President of the Tennessee District Public Defender's Conference and was selected by the Tennessee Supreme Court to be Chair of the Court's Indigent Defense Commission. He also served for two years as Chair of the National Association for Public Defense. After "retiring" as the Public Defender, Mr. Stephens returned to the private practice of law in the law firm of Stephens & DiRado, LLP.
Mr. Stephens is qualified to represent individuals charged with any criminal offense and also handles matters involving civil rights violations. He is an accomplished trial attorney who has been nationally recognized for his skills and experience. He has been inducted into the prestigious American College of Trial Lawyers – an organization that accepts only a small percentage of attorneys from each State into its ranks. He is recognized by the National Trial Lawyers association as "Top 100" in the field of criminal defense in Tennessee. The Tennessee Association of Criminal Defense Attorneys has twice awarded him the Robert W. Richie award. The Gideon's Promise organization awarded him the Stephen B. Bright award in recognition of his efforts to improve the quality of criminal defense representation in the South. He was selected as a Fellow of the Knoxville Bar Association and was awarded the Law and Liberty award by the Knoxville Bar Association for his role in advancing the protection of law and liberty. He has served as an Adjunct Professor of Law at the University of Tennessee College of Law since 2004 and was named Outstanding Adjunct Faculty Member in 2017. He was also given the UT Pro Bono award due to his outstanding contributions to the Innocence Project, which works to overturn wrongful convictions.
When not practicing law, Mr. Stephens enjoys playing golf and spending time with his wife and three daughters.